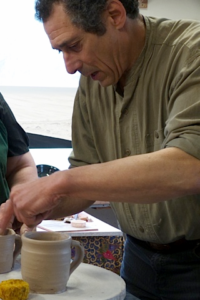 A walking story of clay, Alan Lacovetsky, will spin tales of artistic creation on a potter's wheel. You will witness the ageless transformation of clay into an exquisite Lacovetsky vessel–a process that will seduce you unequivocally. Utility and beauty masterfully merged at the hands of Alan.
Earth media is Gayle Halliwell's chosen material for giving form to that special place where the water meets sand–the beach. Stretch your imagination as she persuades clay to speak to you.
A not-to-miss event, this 2-hour demonstration and talk will allow you to see behind the surface of the stunning works produced by these WAVE artists. Saturday, December 9, 1-3 pm at the New Iceland Heritage Museum.
Special Museum admission of $3.50 gives you access to the Museum and to this workshop.